March 2014
PAUL LOASBY AWARDED PETER GRANT AWARD BY MUSIC MANAGERS' FORUM
The Music Managers' Forum has announced that One Fifteen CEO
Paul Loasby has been awarded the prestigious Peter Grant Award
for outstanding achievement in artists' management.

Paul will be presented with the award at the MMF Artists And Managers Awards event, to be held on the evening of Thursday 3rd April.

For more information, go to www.amawards.org.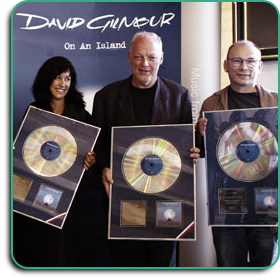 August 2012
JOOLS WRITES NEW ALBUM, CONTINUES TOUR
Jools Holland and his Rhythm & Blues Orchestra will be getting back on course for a new album this year – stay tuned for further news here when it is finalised.
Meanwhile, Jools and the band hit the road again with their latest UK tour; see www.joolsholland.com/tourdates.htm for all the latest details.
STOP PRESS! Jools' date on 18th August at the Shugborough Estate in Stafford has been cancelled, due to the promoter going into liquidation.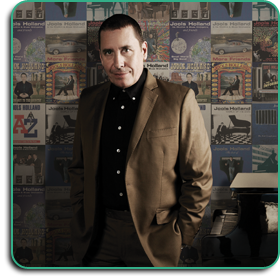 March 2012
DAVID GILMOUR
A GALAXY OF HITMAKERS
Douglas Adams, the much-missed creator of 'The Hitchhiker's Guide To The Galaxy', would have been 60 years old today, and his birthday was marked by a lengthy comedy and music gala staged at the former Hammersmith Odeon, now the HMV Apollo. David joined the musical lineup for the last portion of the show, which included the musicians Adams described as his 'dream band', many of whom used to perform at Douglas Adams' home: David and Robbie McIntosh (vocals, guitars); Gary Brooker (vocals, keyboards); Paul 'Wix' Wickens (keyboards); Jody Linscott (percussion); Dave Bronze (bass); Paul Beavis (drums); and Margo Buchanan, also on vocals and guitar.
After a three-hour show of comedy sketches, filmed inserts, interviews and reminiscences, drawing on all aspects of Adams' career, Robbie McIntosh opened the musical segment with a solo acoustic instrumental and a further original song, Scarecrow, backed by the band, minus David. Margo Buchanan sang her own Rockstar and Etta James' I Just Wanna Make Love to You, and Procol Harum's Gary Brooker led the ensemble in an emotive version of Procol's A Salty Dog, title track of their third album.
Margo then introduced David, who performed the apposite Wish You Were Here to a rapturous reception, which was followed by Gary Brooker's rendition of Chuck Berry's Too Much Monkey Business, with rousing solos from both lead guitarists. Last song of the night was also the most emotional, as Gary Brooker played and sang A Whiter Shade Of Pale, in which David's solo tore the roof off the hall. The whole affair was all the more impressive because, as we were assured by the closing announcement, it was all done with no rehearsal whatsoever.
The event was in aid of Save The Rhino; for more information about the event and the long lineup of performers, click here. For information on Save The Rhino, click here.